University of Madras (Terminal) Final Semester Exam Date released!
UNOM Semester Time Table 2020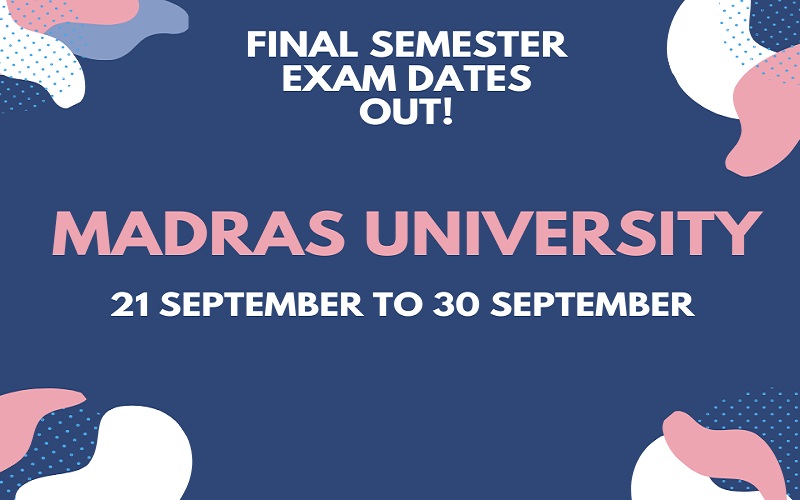 Date of Final Semester Exam and Mode of Examination
The University of Madras announced that examinations for Final year students of both UG and PG will be conducted from 21st September to 30th September 2020. The exams will be held offline as a regular pen-paper test.
UNOM Semaster Online or Offline?
Final year Students outside Tamil Nadu and Covid-19 Patients
Students who do not live in Tamil Nadu can opt for Online exams. Students whose families have a Covid-19 patient/ quarantined or in containment zones can send a request letter with proofs to their Head of Department via email or speed post before 16 September 2020 to opt for an Online mode of examination. The details regarding this will be intimated by your department before September 9, 2020.
UNOM Semester Question Paper Pattern
Duration, Question Paper Pattern, and Timetable
The time duration of exams can be in between 1.5 hours to 3 hours. The question paper pattern can be decided by the Department Committee. The question paper pattern will be uniform for both Online and Offline exams. The Exam Timetable will be decided by the respective college authorities and will be announced on 9 September 2020.
UNOM Final Arrears Papers
Arrear Papers for Final Year Students
Arrear exams for final year students will be conducted after receiving guidelines from The Department of Higher Education, Government of Tamil Nadu.
UNOM Final Year Practical Exams
Practical Exams and Projects of Final Semester students
Marks for Practical Examinations of Final year Students can be given by evaluating Record notebooks or practical exams can be conducted during this period. Marks for Projects will also be based on an evaluation of the soft copies or online oral exam.
UNOM Rules and Regulations
Students must compulsorily wear masks and gloves. Invigilators would not move inside the hall. Question paper or answer sheet would not be passed from one student to another but placed on a table. Steps like these are taken to reduce social interaction as much as possible. All the details will be sent to students before the deadline.
Madras University of Madras September 2020 Exam Time Table
unom.ac.in BA Time Table September 2020
PDF Download
unom.ac.in BSc Time Table September 2020
PDF Download
unom.ac.in B.Com Time Table September 2020
PDF Download
unom.ac.in BCA Time Table September 2020
PDF Download
unom.ac.in BBA Time Table September 2020
PDF Download
Tentative Dates of Final Semester 2020:
Exam Schedule may be Announced on 9th September 2020
Exams may be started on 21st September 2020
Results may be declared on 14th October 2020
Mark Sheet may be uploaded on 19th October 2020