Madras University UG Last Semester Time Table 2020 PDF Download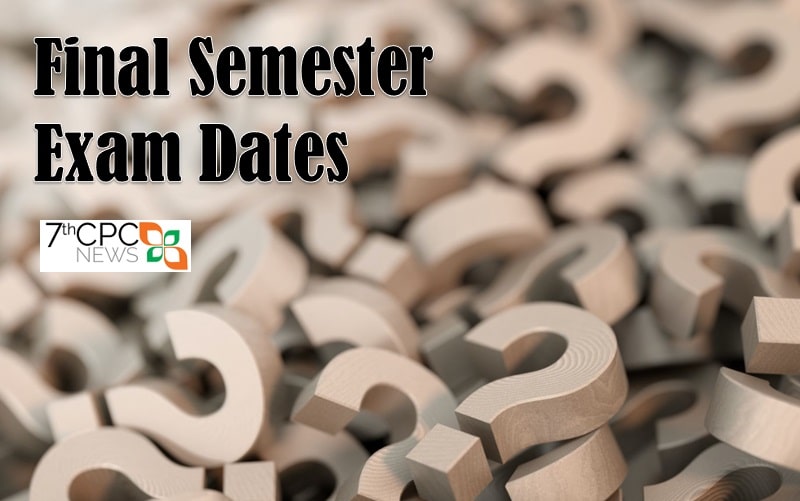 Last Semester in Maharashtra
The examination dates and timetable for the final semester or terminal semester will be soon released by the respective states soon and it is expected to be held in October 2020, in Maharashtra.
Anna University Final year exam Latest news
Anna University in Tamil Nadu is likely to conduct exams in a couple of weeks through online mode. The structure of the exams will be completely changed from Long-answer type questions to MCQs (Multiple Choice Questions). It is anticipated that exams will be held online. Reducing the time hours of the exam from 3 hours to 1 hour is also expected. Sources say that the weightage of Terminal semester exam has reduced to 30% and rest 70% is taken from Internal marks. Other guidelines for safety and sanitization will also be strictly followed.
Madras University Final year exam Latest news
Most of the popular Arts and Science Colleges in Chennai are affiliated to Madras University and students are waiting for them to announce the final year exam date and other details regarding the mode of examination and question paper pattern. You can keep a tab on unom.ac.in (Official website of Madras University) – 'Examination' under the menu bar, to check the release of time table.
Court Judgement for final year students
Supreme Court on 28th August 2020 declared that examinations for final year students cannot be canceled. Degrees cannot be issued without examinations being held. All the colleges are expected to conduct exams before September 30. States can postpone the exams with permission from the University Grants Commission (UGC) but cannot cancel them.
States which are facing flood-like Bihar, Assam, or having a massive outbreak of the virus can extend the dates beyond September 30.
Supreme Court clearly stated that the internal marks will not suffice to pass the students and issue degrees.
UG Last Semester Online or Offline?
Students have been protesting to not conduct exams as it is a high risk of exposure to the COVID 19. Students are already pressured with the financial crisis, dealing with mental health issues, and the end semester exam for the final semester is now an added pressure. But now there is no escape from exams. Colleges can conduct exams online, offline, or a combination of both. The problem is, not everybody can afford to write exams online, in terms of resources, and students who live in different cities or states have to travel if the exams are conducted offline, putting them at high risk for catching coronavirus.
List of Madras University Affiliated colleges
The latest list of affiliated college list of Tamil Nadu under the University of Madras [Click to view the list]
When will conduct final year exams in Tamil Nadu?
It is expected to conduct in the month of September 2020. The State Government will decide and announce in this regard soon!
Where to check Madras University time table for final semester exam?
Go to the official website of MU (www.unom.ac.in). Click 'Examination Schedule' under the tab of 'Examinations' on the menu bar.
When will Anna University final year exam be held?
Terminal exams are expected to be held in the third week of September for Anna University final year students.
How to download Madras University Time table 2020 pdf?
You can download the PDF of the timetable from Madras University's official website. Click Examinations on the menu bar, then click Examinations schedule. Choose your course and the timetable pdf will open.