KVS (Kendriya Vidyalaya Sangathan) Fees Online Payment 2020 – UBI Portal starts for Collection of Fees for the first quarter from April 2020 to June 2020
The Kendriya Vidyalaya Sangathan has already announced to start the collection of the fees from 22nd May 2020 (Friday) through UBI Portal for the 1st Quarter (April – June 2020). Accordance with the order, today the Union Bank of India, UBI Fees Collection Portal is opened to collect the fees for more than 13 lakh KVS students across India.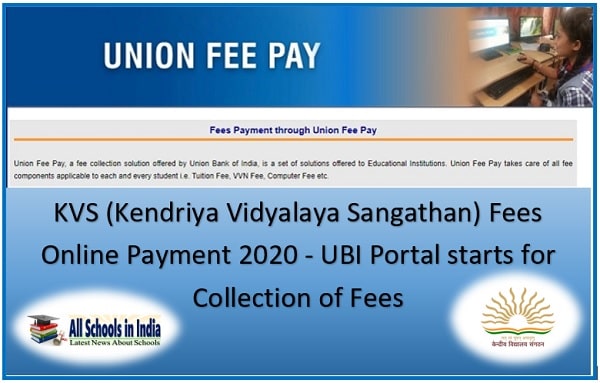 Fees Payment through Union Fee Pay
Click here to download the online fee challan and fee receipts
Click here to pay fees for 1st quarter from April to June 2020
Union Fee Pay, a fee collection solution offered by Union Bank of India, is a set of solutions offered to Educational Institutions. Union Fee Pay takes care of all fee components applicable to each and every student i.e. Tuition Fee, VVN Fee, Computer Fee, etc.
Key Features
Entire Fee of all Vidyalayas pan-India will be collected by Union Bank of India
Fee can be paid through Offline as well as Online modes.
Students/Parents/Stakeholders of KVS can make payment of their
Vidyalaya fee through Any Credit Card or Any Bank Debit Card or Any Bank Internet Banking.
Students / Parents / Stakeholders of KVS can make payment of their Vidyalaya fee through any Bank Mobile Banking Application in their Smartphone.
Students/Parents/Stakeholders of KVS can visit any branch of Union Bank of India across the country for the payment of the Vidyalaya fee.
Easy Reconciliation for Vidyalayas.
Automated Calculation of Fee of every student.
Frequently Asked Question.
Also check: Fee Structure in Kendriya Vidyalaya School
Note: KV Fee payment made through any bank credit card at Online KV Fee payment web portal or at PoS Machine installed in identified schools will add service charges @1.5% plus taxes only
Note: Please do not pay for 2nd time in case of nongeneration of payment receipt instantly. Parents/ Students are requested to wait at least one more working day from the date of the transaction. If still the problem exist, please proceed with a fresh transaction. Your earlier payment, if received by the bank after two working days of your first transaction, will be refunded back to your bank through the same mode automatically.
Please contact [email protected] in the below format only for any fee payment related queries.
Format for queries related to Online Payment.
More Updates from the above topic: