Kendriya Vidyalaya Sangathan created an exclusive web portal and presented it for applying to class 1 admission in all Kendriya Vidyalaya schools. 1245 KV schools located in various parts of the nation and managed by the apex body of Kendriya Vidyalaya Sangathan.
The online registration for applying class 1 admission for the current academic year 2021-2022 start from 1st April 2021 @ 10.00 AM. And this portal will be accepted the application up to 19th April 2021 till 7.00 pm. The registration period of 19 days is enough time to register for class 1 admission in all Kendriya Vidyalayas.
IIT Mumbai is designed as a user-friendly spectacular class 1 admission portal for 1247 Kendriya Vidyalaya schools.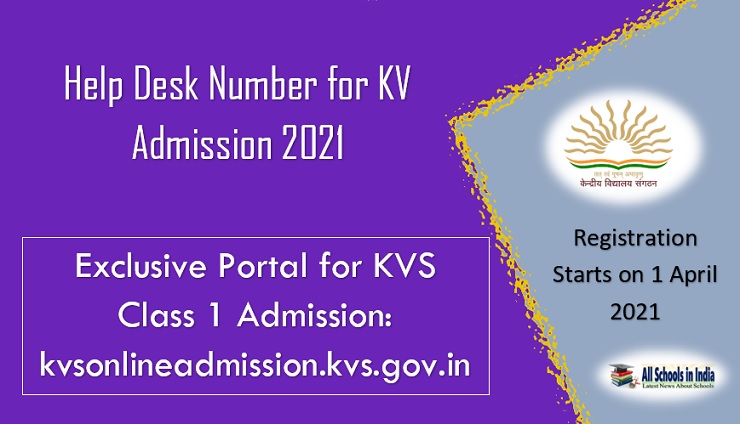 Help Desk Number for KV Admission 2021
All parents are advised to prepare and keep all required documents before initiating an online application through this portal. Moreover, avoid registering on the first day of April 1. There will be sufficient time to register and if any doubt regarding registration, click the 'Help Desk' and get the Help Desk contact phone number of your school with their names.
For example, if you are in Tamil Nadu, Arakkonam the Help Desk numbers are given below:
Principal Details
School Name: ARAKKONAM
State: Tamil Nadu
Region: CHENNAI
Principal Name: Mr.B.Selvam
Landline: 4177-227720
Landline: 8695839992
Help Desk No.: 9944878009