Kendriya Vidyalaya Single Girl Child affidavit format 2021 PDF Download
The first step of KV Class 1 Admissions, after Registration, is Selection through Draw of Lots. The lottery is held in all required Kendriya Vidyalayas on 11 August 2020. Parents are requested to not visit the school campus. So, the process of the RTE lottery is live-streamed online on the school's YouTube channel or Facebook page. The results of the RTE will be posted on the respective KV school's website very soon.
Kendriya Vidyalaya Admission 2020-21 – Sample Format of Affidavit for Single Girl Child
All single girl students in Kendriya Vidyalaya studying up to the 12th class are exempted from all types of fees. Almost free education is being given for the category of 'Single Girl Child' in all KVs.
Click to KV Single Child Affidavit Form PDF Download
Kendriya Vidyalaya Single Girl Child Affidavit Format
Rs. 100/- Stamp paper ( Notary) Affidavit
I……………………………………aged……..…years, Indian Inhabitant occupation …………………a resident of …………………………………is mother/father of ………………….………… Date of Birth………………………………… Submitting my undertaking to the Head of the Institution in Class I Vide KVS Admission Guidelines 2019)
1) I hereby declare that Miss………………………………………………. is the only girl
child in my family ( with no male/female sibling). I understand that it shall be my sole responsibility to inform you about any change in the status of a single girl child in the family immediately, if and when it occurs.
2) I am also aware that in case it is detected at any time that the affidavit sworn by me is false, appropriate action will be taken by the school authorities and KVS against me.
Signature of father
Signature of mother
Residential address with Contact number:
Solemnly affirmed at ………………..
This………..day of………..20……….
BEFORE ME
Explained and Identified by me,
Advocate
Affidavit for Single Girl Child
SINGLE GIRL CHILD SCHEME IN KENDRIYA VIDYALAYA 2020-21
Single Girl Child (SGC) means the only child i.e. only girl child to the parents, with no other siblings.
Single girl children in class I and from class VI onwards subject to a maximum of two per section in class I and two per class in class VI and onwards. It includes twin girl children also.
In the case of twin girls, it will be treated as one admission.
While drawing the lot, the name of both girls (twin) should be written on a single slip/interlinked.
In the case of the single girl child (including twin girl children), if a number of applications are more than the number of allotted seats i.e. a maximum of 02 per section in class I and 02 per class in class VI and onwards, the admission should be granted on the basis of the Priority Category. If in one category more applications are made, all such applications should be taken together and the list of selected candidates should be prepared through draw of lots.
METHOD OF ADMISSION IN CLASS II TO VIII
Admission test shall not be conducted for admission to Class II to VIII and the admission may be granted based on the Priority category system (1 to 5 or 6 as the case may be). If applications are more than the number of seats, the lottery system will be followed in each category including the single girl child quota (Class VI Onwards).
Single Girl Child Scholarship concession scheme for Kendriya Vidyalaya (CBSE Syllabus) students is available from 1st standard to 12th standard.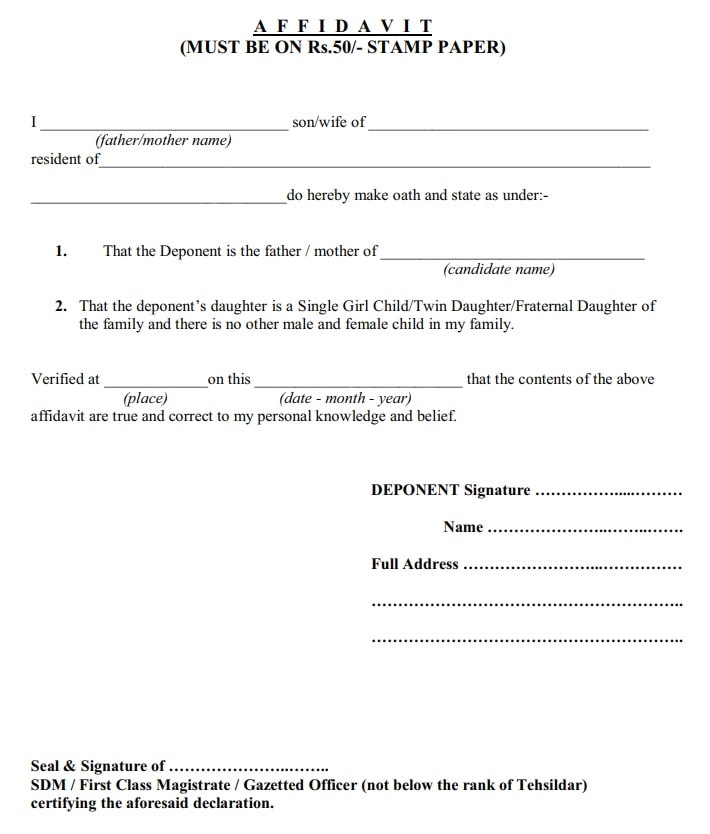 Self Declaration Distance Between School And Residence
You have to declare that the radial distance between the school and our residence
Service Certificate Central Government
Submission of Service Certificate of Central Government Employees and Defence Forces Personnel as per the format
KVS Admission Acceptance letter format
Parents should be submitted a letter to the school management at the time of joining. [Click to read more]