Single Girl Child Quota: The Central Government provides a special provision to get admission to your child in Kendriya Vidyalaya schools. The special provision is named as 'Single Girl Child' reservation. If you have a child, and that too is a girl, you may eligible to apply on the special reservation quota for class 1 admission in Kendriya Vidyalaya. You have to submit a written document for this provision. You can download the sample format of the SGC Affidavit Certificate here (Click to Download PDF). Just fill the form with correct details and get attested from an advocate (Notary Public).
Single Girl Child Affidavit
Kendriya Vidyalaya Single Girl Child affidavit format 2021 PDF Download
Click to KV Single Child Affidavit Form PDF Download
KV Single Girl Child Affidavit
Kendriya Vidyalaya Single Girl Child Affidavit Format
Rs. 100/- Stamp paper ( Notary) Affidavit
I……………………………………aged……..…years, Indian Inhabitant occupation …………………a resident of …………………………………is mother/father of ………………….………… Date of Birth………………………………… Submitting my undertaking to the Head of the Institution in Class I Vide KVS Admission Guidelines 2019)
1) I hereby declare that Miss………………………………………………. is the only girl child in my family (with no male/female sibling). I understand that it shall be my sole responsibility to inform you about any change in the status of a single girl child in the family immediately, if and when it occurs.
2) I am also aware that in case it is detected at any time that the affidavit sworn by me is false, appropriate action will be taken by the school authorities and KVS against me.
Signature of father
Signature of mother
Residential address with Contact number:
Solemnly affirmed at ………………..
This………..day of………..20……….
BEFORE ME
Explained and Identified by me,
Advocate
KV School Single Girl Child
Affidavit for Single Girl Child
Affidavit Single Girl Child
SINGLE GIRL CHILD SCHEME IN KENDRIYA VIDYALAYA 2022-23
Method of Admission in Class 2 to 8
Admission test shall not be conducted for admission to Class II to VIII and the admission may be granted based on Priority Category system (1 to 5 or 6 as the case may be). If applications are more than the number of seats, lottery system will be followed in each category including single girl child quota (Class VI Onwards).
Single girl children in class I and from class VI onwards subject to a maximum of two per section in class I and two per class in class VI and onwards. It includes twin girl children also.
(a) In case of twin girls, it will be treated as one admission.
(b) While drawing the lot, name of both girls (twin) should be written on a single slip/inter linked.
(c) In case of single girl child (including twin girl children), if number of applications are more than the number of allotted seats i.e. maximum of 02 per section in class I and 02 per class in class VI and onwards, the admission should be granted on the basis of the Priority Category. If in one category more applications are made, all such applications should be taken together and the list of selected candidates should be prepared through draw of lots.
In case of vacant seats of SC/ST: SC/ST seat should be filled after interchanging the seat as per the availability of registered candidates from the available SC/ST social category priority list i.e. vacant SC seats may be filled with ST or vice versa, only if total SC and ST candidates admitted taken together fall short of total reserved seats of SC and ST taken together. This aggregation may be obtained by counting all the admitted SC and ST candidates of all the categories e.g. in a single section KV total SC and ST seats are 9 (6 SC + 3 ST). Now suppose 8 SC and 1 ST is already admitted and there are no more ST candidates available to admit, in this case these 2 seats of ST will not be given to SC as already 9 SC/ST candidates have been admitted.
Clarification: OBC seats cannot be interchanged with SC/ST or RTE
Affidavit Single Girl Child in KV
Exemption of Fee for Single Girl Child in KVS
The Central Government is given an exemption for some category of children from tuition fees in KV schools.
Girl students are exempted from the Tuition fee for all classes
Single Girl Children are exempted from all fees from class 6 to 12
Single Girl Child Scholarship concession scheme for Kendriya Vidyalaya (CBSE Syllabus) students is available from 1st standard to 12th standard.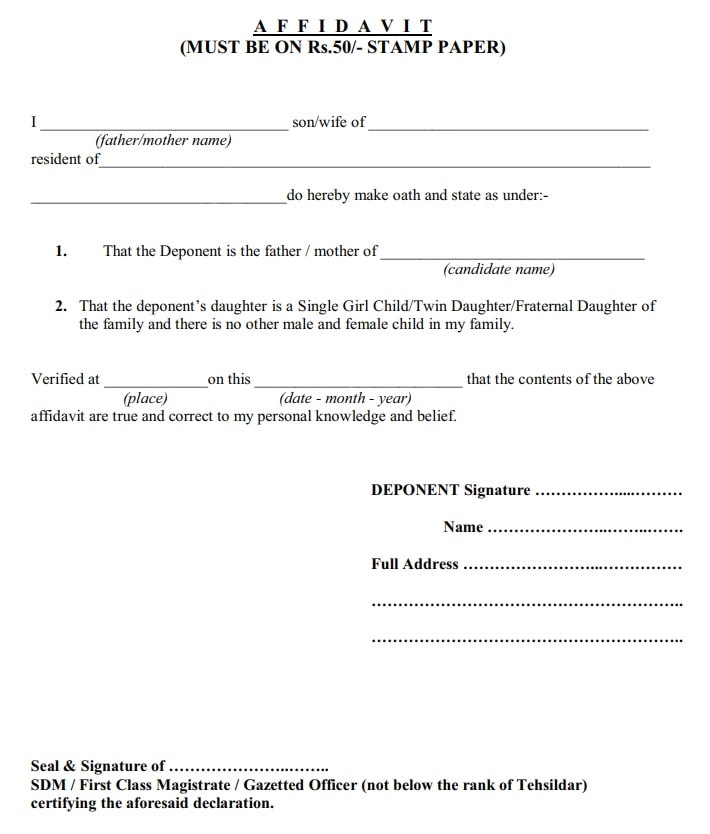 Self Declaration Distance Between School And Residence
You have to declare that the radial distance between the school and our residence
Service Certificate Central Government
Submission of Service Certificate of Central Government Employees and Defence Forces Personnel as per the format
KVS Admission Acceptance letter format
Parents should be submitted a letter to the school management at the time of joining. [Click to read more]
What is Single Gril Child?
Single Girl Child (SGC) means the only child i.e. only girl child to the parents, with no other siblings.
How many children select under SGC quota?
Single girl children are subject to a maximum of two per section in class 1 and two per class in class 6 and onwards. It includes twin girl children also.