The Kendriya Vidyalaya Sangathan has proposed to start class 1 from 15.9.2020 depending upon the situation of COVID19.
There is no progress in the opening of all KV Schools in India. Online classes are going on!
When will KV Schools reopen?
As per the new guidelines issued by the KVS, there will be a proposal to start class 1 from 15th September 2020.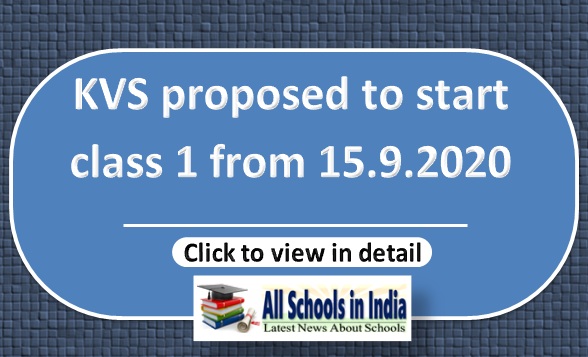 The report of the scheduled date for KVS admission for class 1, class 2, and above classes, the below information has been added for the students and parents.
List of children registered, list of eligible children, category-wise list of provisionally selected children, waiting list, and subsequent lists to be compulsorily displayed on the website of the Kendriya Vidyalayas concerned, in addition, to display on School's Notice Board.
If any of the dates happen to be a public holiday the next working day shall be treated as opening/closing date.
The studies of Class I will commence from 15th September 2020 either online or regular in Vidyalaya depending upon improvement in the situation due to COVID-19.
It is brought to your notice that presently around 198 Kendriya Vidyalaya across the country are being used as Isolation Centre or Quarantine Center by Central/State Government due to pandemic COVID-19. These KVs will be functional for regular classes only after lifting of lockdown and permission from respective authorities.