Kendriya Vidyalaya Jajpur Bhubaneswar Online Admission 2021-22 for Class 1
Good Opportunity to get admission for class 4 and 5 in KV Jajpur Bhubaneswar
Regarding Fresh Admission for the session 2021-22
Fresh admission for class 1 in Online mode
Date 01.04.2021 to 19.04.2021
Fresh admission for the class 4 and 5 in Offline mode.
Date 08.04.2021 to 15.04.2021
There is no vacancy for the remaining class for the session 2021- 22.
For any assistance, contact Mr. B. S. Pradhan
Mob. No. – 79786 32787
Language Undefined
Date: Tuesday, 30 March 2021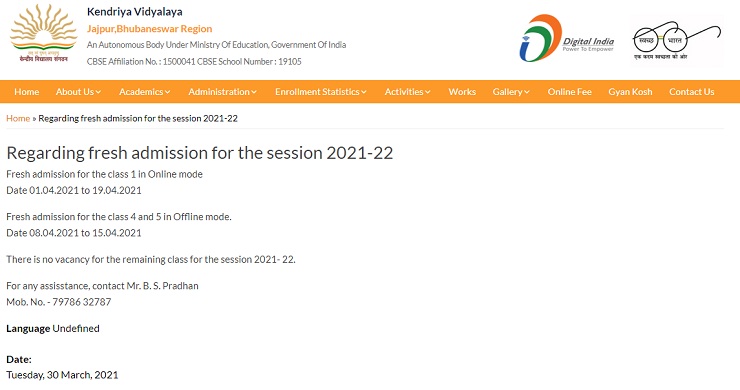 For more details click the official website of KV Jajpur Bhubaneswar jajpur.kvs.ac.in
---
Regarding Admission in Class IV & V
It is information to all the Stakeholders that in Class IV & V, additional section has been granted by KVS HQ, New Delhi for the session 2021-22. There will be Fresh admission in Class IV & V whenever the admission process started.
Language Undefined
Date: Monday, 22 March 2021
---
Kendriya Vidyalaya Jajpur Bhubaneswar Online Admission 2020-21 for Class 1
All parents and students are requested to watch the official website of KV school Jajpur Bhubaneswar regularly for admission updates. The official announcement for admission for class 1 and other classes is expected to release in the first week of March 2020. The Kendriya Vidyalaya Sangathan will provide the online admission form for the academic year 2020-21 for all Kendriya Vidyalaya located in India.
The Kendriya Vidyalaya Sangathan (KVS) will launch a single online registration common platform for all 1230 KV schools in India. After completion of registration, the selection list (Provisional Merit List) for the admission for the session 2020-21 will be published on the respective Kendriya Vidyalaya school website at the end of March onwards.
The website portal link of KVS Jajpur Bhubaneswar is given below:
Kendriya Vidyalaya Jajpur At-akarpada Po:- Sridharpur Via- Chitalo Dist-jajpur Odisha, Pin-755062
 Phone No: 9437959678
List of 1230 Kendriya Vidyalaya in India – New Website Link of all KV School