KV School Admission Guidelines 2018-19
GUIDELINES FOR ADMISSION IN KENDRIVA VIDVALAVAS WITH EFFECT FROM THE ACADEMIC SESSION 2018-19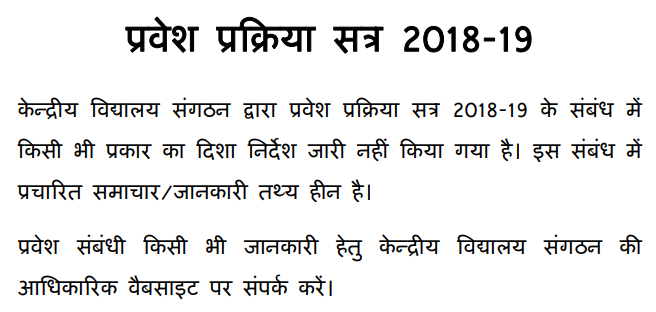 —————————————————–
Information Regarding KV School Admission 2018-19
Information regarding Admission 2018-19 – kvannanagar.tn.nic.in
This office is receiving lot of phone calls and visitors pertaining to get relevant information regarding the admission procedure for the academic year 2018-19.Hence the following are brought to the kind attention of general public.
All admissions for all classes (I to IX & XI) are online.
The formal admission process will probably begin in the first week of February, 2018.
Please keep visiting our website www.kvannanagar.tn.nic.in for all updated information.
As far as KV, Anna Nagar is concerned, there is no vacancies likely to arise for classes IIIX.
Admission procedure for Class XI will commence immediately after the declaration of the results of AISSE -2018.
In order to apply for class I ,a child must have completed 5 years as on 31.03.2018 and less than 7 years.( Even a day less or more will disqualify the candidate from applying)
Hon'ble MPs have 10 seats as their quota, for that parents have to approach MPs only, this school has nothing to do with that. Bringing letters from MPs, MLAs, Hon'ble Ministers etc.. telephonic requests are futile exercises.
Selection of Candidates will be done online at KVS, HQ level strictly as per Admission guidelines. Principal has got no scope to intervene in the admission procedure or granting admissions.
Parents are requested to take extreme care to mention vital information such as Date of birth, SC & ST details,OBC non creamy layers, Differently abled, Single girl child, Economically weaker section, Central/State government job, Ex-service men etc.., while applying online. There is a provision for online lot system to pick and admit children under RTE-2009.
Before applying online under any category, please ensure that the supporting documents are at hands.
Since the entire procedure is made online, school authorities may be avoided to get information in connection with admissions.