GOVERNMENT OF INDIA
MINISTRY OF HUMAN RESOURCE DEVELOPMENT
DEPARTMENT OF SCHOOL EDUCATION & LITERACY
LOK SABHA
UNSTARRED QUESTION NO. 238
TO BE ANSWERED ON 24.6.2019
KENDRIYA VIDYALAYAS AND JAWAHAR NAVODAYA VIDYALAYAS
238. SHRI SUMEDHANAND SARSWATI:
SHRI SUNIL KUMAR SINGH:
Will the Minister of HUMAN RESOURCE DEVELOPMENT be pleased to state:
(a) whether the Government is aware that Kendriya Vidyalayas have not been set up in all districts of the country and if so, the State/UT-wise details of the districts which do not have any Kendriya Vidyalaya;
(b) whether the proposal regarding setting up of a new Kendriya Vidyalaya in Barwadih of Latehar district of Jharkhand and in Sikar Lok Sabha Constituency of Rajasthan is under consideration of the Government and if so, the status in this regard;
(c) whether the Ministry of Railways have agreed to provide land for setting up a Kendriya Vidyalaya in Barwadih; and
(d) if so, the time by which the Government is likely to take further action in this regard?
ANSWER
MINISTER OF HUMAN RESOURCE DEVELOPMENT (SHRI RAMESH POKHRIYAL 'NISHANK')
(a) The Kendriya Vidyalayas (KVs) are opened primarily to cater to the educational needs of the wards of transferable Central Government Employees including Defence personnel on receipt of the proposal in the prescribed proformae from Ministries/ Departments of Government of India / State Governments / Union Territory Administration committing thereby availability of requisite resources for setting up a new KV as well as on availability of necessary sanction of the Government. However, KVs are not opened on the criteria of District-wise. There are 179 districts in the Country which do not have any KV. The State/UT-wise details are annexed.
(b) Kendriya Vidyalaya Sangathan (KVS) has informed that a proposal has been received from Divisional Railway Manager, East Central Railway, Dhanbad for opening of a new KV in Barwadih, Distt. Latehar. Final decision regarding setting up of the KV would depend upon the feasibility report, qualifying under the 'Challenge Mode' and approval of competent authority. In the Sikar Lok Sabha Constituency, one KV is already functioning at Sikar and no other proposal for opening of another KV in Sikar Lok Sabha Constituency has been received from the State Govt.
(c) Yes, Sir. Ministry of Railways has offered land as per KVS norms for setting up of KV at Barwadih.
(d) All the proposals for opening of new KVs received from various sponsoring authorities are scrutinized by the "Challenge Method Committee" which assesses the proposals on case to case basis with regard to the prescribed parameters before processing the proposals for approval of the competent authority. As such no time frame can be given in this regard.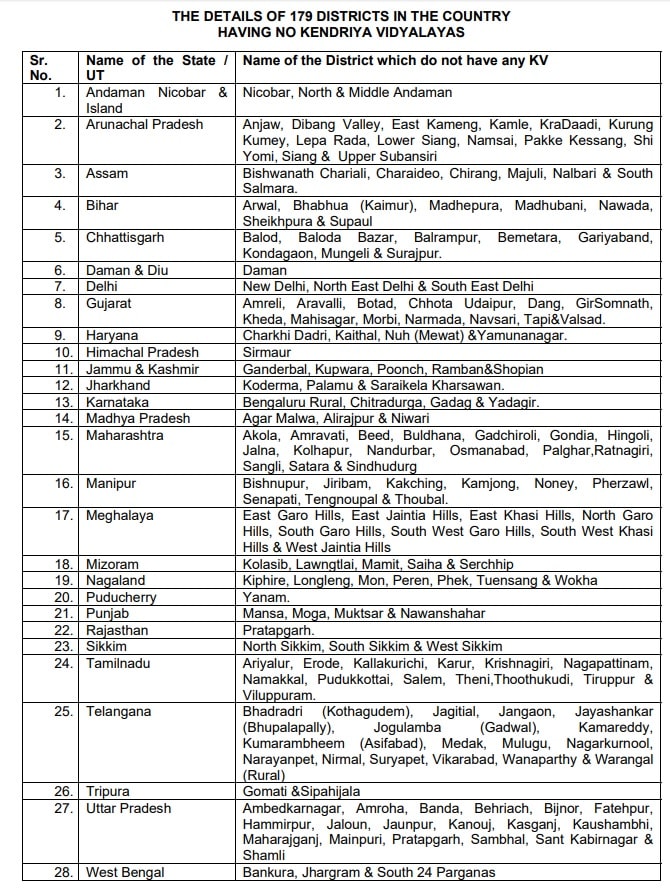 Source: Lok Sabha