Kendriya Vidyalaya Class 1 Online Admission 2020-21 process explained in 16 languages on YouTube!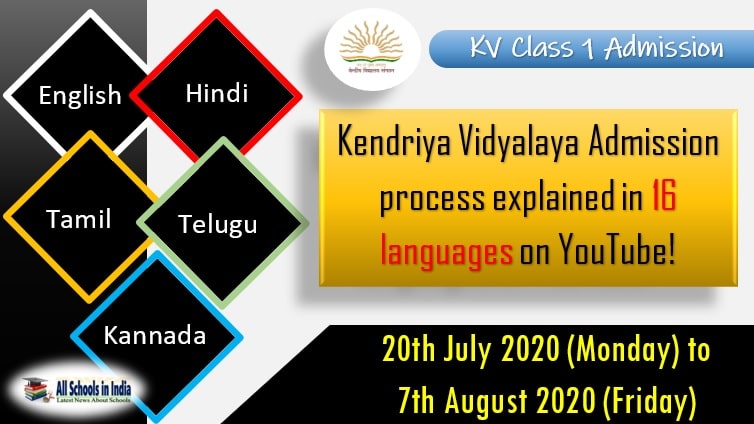 Kendriya Vidyalaya schools have always been the most sought-after schools by parents in India for various reasons such as the fee, ease in transfers, cultural diversity amongst the students, fine academic experience, and exposure to co-curricular activities.
The online set-up for admissions 2020-21 is a smooth sail. Kendriya Vidyalaya Sangathan has done a stupendous job in making the submission of application easy and handy, by not only making it strictly online for Class 1 but also clearing all the doubts posed by uploading videos on YouTube, clearly explaining it step-by-step. The efforts taken by KVS is astounding and has to be appreciated.
The admission process of Kendriya Vidyalaya schools for Standard 1 is taken up a notch higher by making how-to videos in a whopping 16 different Indian languages, which are listed below along with the links. There are 4 videos in each of the 16 languages explaining right from the Registration, Filling and Submitting Application form, some special cases with examples, and Choosing service priority category.
Kendriya Vidyalaya Class 1 Admission Process Video in Hindi
Kendriya Vidyalaya Class 1 Admission Procedure Video in English
Kendriya Vidyalaya Class 1 Online Admission Procedure Video in Bengali
Kendriya Vidyalaya Class 1 Admission Procedure Video in Malayalam
Kendriya Vidyalaya Class 1 Admission Procedure Video in Assamese
Kendriya Vidyalaya Class 1 Admission Procedure Video in Tamil
Kendriya Vidyalaya Class 1 Admission Procedure Video in Telugu
Kendriya Vidyalaya Class 1 Admission Procedure Video in Kannada
Kendriya Vidyalaya Class 1 Admission Procedure Video in Marathi
Kendriya Vidyalaya Class 1 Admission Procedure Video in Urdu
Kendriya Vidyalaya Class 1 Admission Procedure Video in Nepali
Kendriya Vidyalaya Class 1 Admission Procedure Video in Sanskrit
Kendriya Vidyalaya Class 1 Admission Procedure Video in Oriya
KV Class 1 Admission 2020-21 Process Video in Manipuri
KVS Class 1 Admission 2020-21 Online Procedure Video in Gujarati
Kendriya Vidyalaya Class 1 Online Admission Procedure Video in Punjabi